Never buy the wrong shoe size again using this old-school tool
Would you run a race in somebody else's shoes? 
How about in two different shoes? That's what Jim Thorpe did. And he won two gold metals doing it.
At the 1912 Olympics, Jim Thorpe, a track and field athlete from Oklahoma, was preparing for competition. On the morning of the race, Jim's shoes were stolen ! Fortunately, Jim was able to find two old shoes in a nearby garbage can. One of the shoes was too big, so he wore an extra sock to make up the difference.
Even if you've never encountered a shoe problem as serious as Jim's, it's possible you, too, are wearing the wrong shoes.
Did you know that more than 50% of people are walking (or running) around in the wrong shoe size? The number of people with an incorrect measurement, such as width or length, is even higher!
Your foot size and shape can change throughout your lifetime 
Sometimes up to a full size bigger! Here are a few reasons why:
Your job: standing in one place of hours at a time or wearing heavy protective footwear
Your sport: high impact forces of running and jumping, restrictive footwear
Weight gain – increased weight can lead to foot spread and changes in how you walk
Injuries – broken bones, bunions, hammer toes, even ankle sprains
Plus, many people naturally have feet that are two different sizes, adding another factor to consider when selecting the right shoes. When you wear the wrong size, you risk chronic foot pain and accelerated shoe breakdown. Bottom line: unhappy feet!
The solution? A 100-year old tool
In 1925, Charles F. Brannock invented the Brannock Device to measure feet and determine shoe size. He was just 22 years old at the time, and got the idea while working in his father's shoe store. In the early years, the device became popular with the military to reduce foot problems, with most service branches using it to issue shoes by WWII.
The Brannock device provides three important measurements that determine your size:
Foot length – from heel to toes
Foot width – from inner edge to outer edge
Arch length – from heel to ball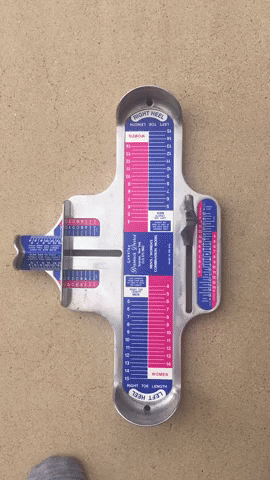 Step-by-step measuring instructions can be found on the Brannock website.
There are other ways to measure your foot, such as with tracings on paper. Unfortunately, it can be challenging to get accurate measurements this way, especially when measuring your own foot.
Meet a runner with two different feet
That's me! For many years I thought I was a women's size 7.5 in running shoes and cross-trainers. But I always had trouble – my feet never felt "equal" in my shoes.
It wasn't until I started working with professional runners that I learned what a Brannock device was, and how to use one to measure my own feet. It turns out my feet are different in all three measurements.
*Above image: Two feet with the same length, but different arches = different sizes
Discovering these small but essential differences became a turning point for me to find the right shoes. In my case, I found I don't need to buy two different shoes; a size 7.0 in wide width feels great on both feet.
No more feeling uneven, and no more arch pain!
But what if I buy my shoes online instead of in a store?
With more people buying shoes online, it's easy to overlook the crucial aspect of "try before you buy" that ensures the right size and fit.
Before you buy your next pair of shoes, visit a dedicated shoe store and check your size with their Brannock device. Aim to get your feet measured every year or two and after any related injuries or significant changes in your health or weight.
Keep your feet happy, and avoid buying the wrong shoes by knowing your correct size.
Use a Brannock device to ensure accurate measurements for each foot.
Re-measure your size yearly, after any injuries, or significant changes in your health or lifestyle.
Questions or comments about foot problems or shoes?
If you have a friend, teammate, or co-worker who could use this information, please share it with them.
Photo Credit: Jim Thorpe's shoes
Have you felt uncomfortable in your running shoes, but haven't figured out why?
Get the book that teaches you exactly how to evaluate any running shoe. Learn a step-by-step process you can follow so that you'll be confident in your shoe selection. No more trying to make sense of the latest ad or celebrity endorsement!

Physical therapist Rita Chorba and strength coach David Chorba share a field-tested system for finding the right running shoes, born out of two decades of helping thousands of runners, including weekend warriors, military service members, and Olympic medal holders. 

You'll also learn the answers to common questions like: 
I have foot pain. Could it be coming from my running shoes?
I have flat feet. Do I need to buy arch supports?
I'm a little overweight. Do I need more cushioning?
If you're frustrated with the endless trial and error and money wasted trying to find the right running shoes, this book can help!